Awards
Our Research Team has won a number of awards for our research and work over the years, which shows just how far your help and support goes when it comes to helping us to change lives.
Here are just a few:
Amazing research Carried out by Mr Tamas Cserni to develop the Puma device. This funding is only possible with the continued support of our wonderful Supporters!
Here is the article published by MFT – https://mft.nhs.uk/rmch/rmch-doctor-invents-device-to-simplify-complex-kidney-surgery/
A new device designed to simplify a difficult kidney operation in children and adults has been invented by a Royal Manchester Children's Hospital doctor.
The complex procedure, pyelo-ureteral anastomosis, is required when the tube that carries urine from the kidney to the urinary bladder (ureter) becomes blocked. The blocked part of the tube must be removed, and the ureter re-joined to the kidney.
Currently, this re-joining can only be achieved via challenging stitching, which makes the minimally-invasive keyhole surgery very difficult. The keyhole technique is so demanding, especially in babies, that only a handful of surgeons are able to offer it to their patients. As such, almost half of the procedures in the UK are done via open surgery; which leaves a bigger scar, has a longer recovery time and a longer stay in hospital. Robot-assisted keyhole surgery is less demanding, but only a few NHS hospitals have the expensive robotic surgical systems required to undertake the procedure.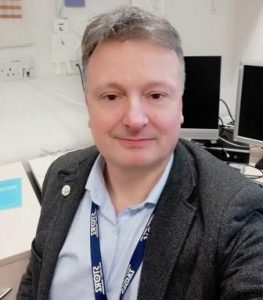 Around 50 patients at Royal Manchester Children's Hospital (RMCH) – part of Manchester University NHS Foundation Trust (MFT) – require the procedure each year, leading Consultant Paediatric Surgeon and Urologist, Mr Tamas Cserni (right), to develop the Pyelo-Ureteral Magnetic Anastomosis (PUMA) device.
Mr Cserni, who is an established researcher and has already delivered successful innovation projects in paediatric surgery, said: "I was thinking about what I could do to make pyelo-ureteral anastomosis simpler, easier and better. We need to make the procedure significantly easier to encourage more and more surgeons to offer keyhole procedure to their patients."
Building on a concept previously proven in intestinal surgery, PUMA makes use of high-powered magnets rather than stitches to reattach the ureter to the kidney. The magnets stay in place for a period of 10 to 14 days and can then be easily removed without the need for further surgery. Mr Cserni explains more about the procedure and the device in this video.
He built his initial kidney models from balloons and pieces of foam, which were used at a workshop for surgical trainees in 2016, receiving positive feedback. A simulated model of the PUMA was then tested by RMCH consultants, surgical trainees and specialist nurses, whom Mr Cserni credits with providing valuable insight and contributing to its success.
After a rigorous approval process, the device was than tested in a laboratory at the Institute of Surgical Research at Szeged University, Hungary. The results of the simulations and the 'proof-of-concept study', which was funded by MFT, have now been published in the British Journal of Urology International.
Earlier this month, PUMA was awarded the Innovation Prize at the virtual British Association of Paediatric Endoscopic Surgeons 2020 Conference.
Supported by MFT's Innovation Team, the Trust has now filed a UK patent application to protect the device and Mr Cserni has been awarded funds for further development by the Kidneys for Life charity.
"I was very happy to receive the award, and it's reassuring that a panel of experts agree the results are promising. I'm very grateful for the support I receive from my colleagues at the Urology Department at RMCH, the MFT Innovation Team, the Kidney for Life Charity and the Szeged research team," said Mr Cserni.
"It is still a long way to trialling the device in humans, but it's great to know that my colleagues in the field like the idea and think the work so far is promising."
Dr Katherine Boylan, Head of Innovation at MFT, said: "Congratulations to Mr Cserni on his award win and for developing the PUMA device, which is a fantastic example of the cutting-edge research and innovation we carry out at MFT.
"The MFT Innovation Team is currently helping to identify a commercial partner to bring the device to market. If successfully commercialised, this could result in clinical benefits not just for patients being cared for in our Trust, but for children and adults requiring this surgery across the UK and the World."
North West NHS Innovation Awards 2009
Professor Paul Brenchley, Dr Sandip Mitra and Professor Rein Ulijn won the award in the category of Medical Devices, Equipment, Diagnostics or Therapeutics for the 'Renephra' project. 'Renephra' is the innovative concept of transdermal fluid and toxin removal—a novel treatment to address the medical need for better treatments for patients with kidney failure.
The technology has two component parts: a wearable transdermal hollow micro-needle array to access the fluid/toxin reservoir below the skin (in the interstitial space); and a designer hydrogel cassette that specifically captures fluid and toxins present in the interstitial fluid. The technologies are combined into a device that is wearable and allows for slow, continuous fluid and toxin removal without the need to be physically attached to a dialysis machine.
NHS Innovation Challenge Prizes Winner 2011
The innovative home haemodialysis programme offered to renal patients has attracted an NHS Innovation Challenge winning prize for Dr Sandip Mitra and his multi-disciplinary team at Manchester Royal Infirmary. Launched five years ago, the programme empowers patients to self dialyse at home, with significant benefits both in clinical outcomes, efficiency and cost savings. Patients are able to live a more normal lifestyle, with a more liberal fluid and diet intake, and free from having to come into hospital several times a week to dialyse. 180 patients (up to 15% of renal patients) have so far been trained up to dialyse at home. The programme which also won the NICE excellence award for 2011 is being adopted in several centres across the UK.
The award was acknowledged by Health Minister Simon Burns who said he was impressed by the work of the MRI renal team. The programme has also attracted the attention of both national and local media, including coverage in The Guardian, Independent, Nursing Standard, BBC North West Tonight and Granada Reports interviewing staff and patients. Dr Mitra said: "I am delighted to receive this award on behalf of the team and dedicate it to all our patients who have made that extra commitment to transform lives on dialysis."
See more about their award on the NHS Innovation Challenge website.
Northwest Biomedical Awards: Bionow
Professor Paul Brenchley, Dr Sandip Mitra and Professor Rein Ulijn won the award on Emerging Technology Project of the Year, organised by Bionow (the NorthWest Regional Development Agency's (NWDA) Biomedical Cluster Support Group) for the 'Renephra' Project.
The project, as explained above, is an innovative form of treatment to address the medical need for better treatments for patients with kidney failure.